PT Pan/Tilt Camera Platform Mount for FPV + 2x MG90s servos
PT Pan/Tilt Camera Platform Mount for FPV + 2x MG90s servos
£14.99 (inc VAT)
£12.49 (exc VAT)
Product Description
Pan & tilt camera platform, suitable for applications such as FPV (first person view) RC models.

Lightweight and strong. Enjoy being able to move the view left, right, up and down.

Multi screw pack included to fit a wide range of installations.

Mounting of camera will depend on your model of camera. Small FPV case cameras will clip right into the holder.

Includes 2 x MG90s micro metal gear servos
Highly recommended in this application due to having metal gears. The MG90s is a tight fit when assembling the base of the platform but will go together with some pressure. Servo horns will need trimming to size with strong cutters, dremel or knife to fit the platform. (see photo)
Assembly required. Tips on installation available here.

Specifications:
Dimensions: 23 x 23 x 12mm (33 x 33 x 12mm including fixing tabs and arm hub)
Weight (including connector): 13.2g
Operating Speed (4.8V no load) : 0.12sec / 60 degrees
Stall Torque (4.8V): 10.2oz / in ( >2 kg/cm )
Temperature Range: -30 to +60 Degree C
Dead Band Width: 4 usec
Operation Voltage: 3.5 - 8.4 Volts
Camera not included.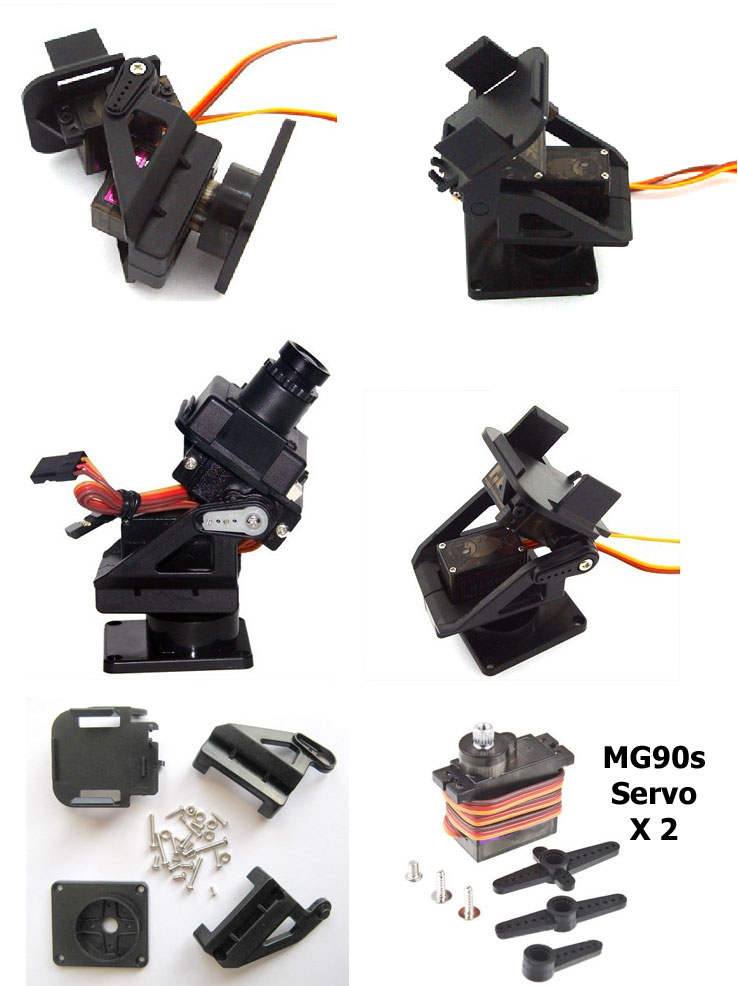 Find Similar Products by Category