Product Overview
Brand new and high quality. Convenient individual day of the week program setting. Easy to use and install.

Features:

Cut out (MM) : Φ64.
Fitting Depths (mm) : 21.
DC:12V input power

Power consumption : 4.4VA.
current consumption without load : 0.015mA.
SWITCHING CURRENT AC.
Resistive Load (LVD .IEC) 16A /250V AC.
Inductive load cos . 0.6 8A /250V AC.
incandescent lamp load 1000W.
SWITCHING CURRENT DC : 16A/24V DC.
Operation accuracy : Type(+-)1 s/day.
Ambient temperature : -10℃-55℃.
Shortest switching time : 1 min.
Shortest switching interval: 1 min.
Number of channels ' 1.
Number of memory spaces : 17.
Type of connection : Plug in.
ACCORDING TO : EN60730-1.
Installation method:screw, connector connection.
Key Button:
1.clock, timer, day, h+(setting the hours), m+(setting the minutes), manual override, reset.
Tips:
2.Before starting the program, the timer should be charged for at least 5 minutes as the inbuild battery may be of no battery.
3.Before setting the program, press the key button reset, to clear the memorize data for the new instructions.
4.After the program is made, please insert the timer to the plug. Then connect the electric appliance to the timer.
5.The on and off can be set eight times each day, which can be set as follow:
-First option, Every day.
-Second option: from Monday to Friday.
-Third option: Saturday and Sunday(weekend).
-Fourth option: from Monday to Saturday(working days).
-Fifth option: Monday, Wednesday, Friday.
-Sixth option: Tuesday, Thursday, Saturday.
-Seventh option: from Monday to Wednesday.
-Eighth option: from Wednesday to Saturday.
-12 hours and 24 hours systems are optional.
Size:6cm x 6cm x 3cm - 2.36inch x 2.36inch x 1.18inch.
Package includes:
1 x Programmable Timer Switch
Instructions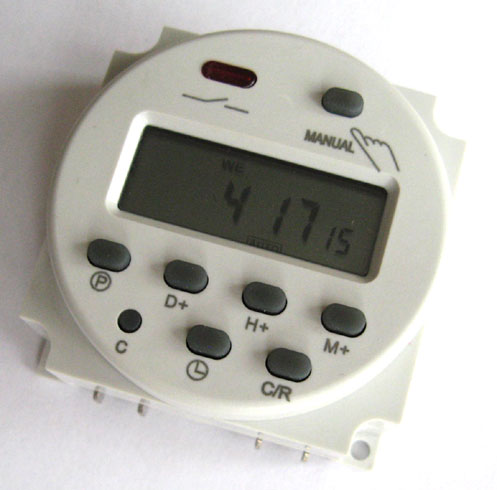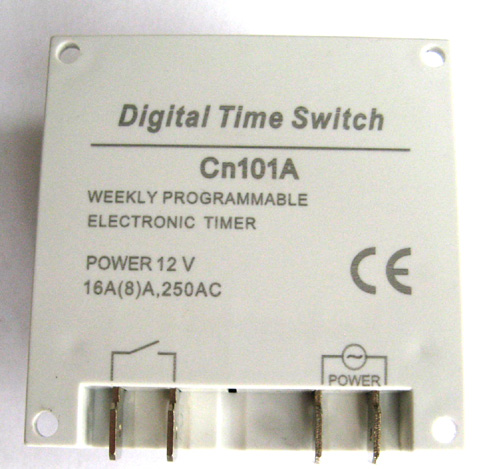 Reviews