1 Channel AC DC 12V RF Wireless Remote Control Switch Receiver +Transmitter 1 CH
£15.99 (inc VAT)
£13.32 (exc VAT)
Product Description
Choice of one of the following:
- 1 x 1CH Receiver + Remote
- 1 x 1CH Receiver + 2 Remotes
- Extra Remote

Please note, you will only receive the item selected in the dropdown menu above. If an option is not present then the item is not currently available.

Brand new and high quality.
Lightweight and portable. Easy to install and use.

Remote:
Channels/buttons: 2
Operating Voltage: DC12V
Frequency: 433mhz
Operating Current: 30MA
Distance: 10-30m+
(please note that is the ideal distance without any block and signal interference, it would rise and fall about 10%-50% with interference).
Size: 50 x 40 x 13mm approx (plus keyring)
Weight: 23g

Receiver:
Channels/switches: 1
Power: DC 12V
Static current: ≤ 10mA
Contact current: 5A 220VAC/10A 12VDC
Receiver sensitivity: -105Db
Dimensions: 75 × 55 × 29mm
Weight: 58g
Operating temperature: -10 ℃ ~ +50 ℃

Add extra remotes by pressing the learning button inside the receiver, then pressing a button on the remote. The receiver light will flash when the remote is recognised.


The control type can be changed inside the receiver by moving the jumper to pin 2&3 (toggle), 1&2 (momentary) or 1 pin (latch).

Latch type: Press one button on the remote, the switch is on till you press the other button to turn off.

Toggle type: Press one button, the switch is on until you press it again. Just like the power key of TV remote control: when you press it, TV on, press again, TV off.

Momentary type: Press one button, the relay is on until you release it. Just like the button of Klaxon, if you press it, Klaxon on, and will turn off once you release it.
These units can be used for starting and stopping, or the connection and break of devices and electrical machinery. The product could also achieve the requirements of various kinds of special control procedures.
Ideal use in:
Vehicle central locking systems
Garage doors
Electronic gates
TV, Motors, Fans, Cameras, Video Signals, Audio Signals, RC applications, Electric Doors/ Locks/ Windows/ Curtains and more.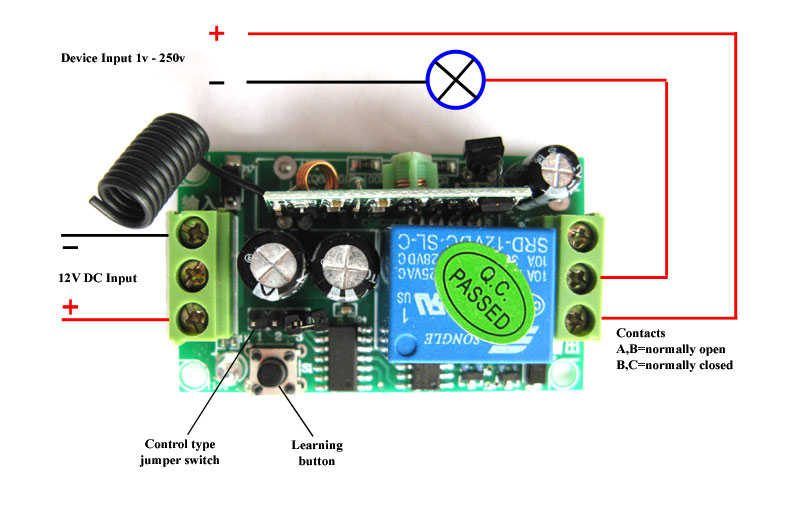 Each device connected will need to be powered by it's own power source (there is no voltage output from the switch, it only acts as a connecter/disconnecter for an existing live circuit). If using a 12v device it can be wired in parallel with the switch power supply.
Instructions are available to download
here
Find Similar Products by Category